Greetings and salutations, Apparition Lit Readers and Submitters! 
I'm back! This time I would like to take a few minutes to talk about Apparition Literature's new Patreon exclusive Generative Writing Workshops (and hangouts). Once a month, App Lit Senior Editor Amy Robinson will be hosting digital hangs where she will lead discussion and activities based on the Amherst Method. Patreon members will get the private links to join the call, and will have the opportunity to network, participate, and create.
I thought it would be nice to check in with Amy about the workshops and give you all an idea of what to expect!
Amy, our patreon has a great video of you describing the basics of these workshops. Can you just give us a brief rundown of what participants to expect for anyone who hasn't seen the video yet? 
Sure! The hangout/workshop will be around 90 minutes. I'll do a quick intro of myself and the rules (i.e. there is no wrong way to do this, I'll be giving prompts, but if something else strikes your fancy happily write about that, feedback is all positive at this stage of the game, etc…) Have everybody say a quick, low pressure "Hi!". Then we'll do a short reading together, it will either be a poem or something pulled from a book, kind of an example and kick start leading into the prompts. The prompts I give will pull from memory, or senses, or stuff you wish were true, and then I'll give you a few options on what to write, set a timer for 10 minutes and we'll write. 
I'll reiterate again, there is no wrong way to do this! 
Then we'll come back together and we can read our stuff (or not) and the group will say what they like/remember. It's all creation at this point, so the idea is enjoyment and encouragement. Editing/critiquing comes much later and not in these workshops!
Why did you and the Apparition Lit crew decide now was the time to bring out the workshops? Besides the fact that it should be fun…
I've been talking about doing it for awhile. I absolutely love leading generative writing workshops because it *is* fun! Working on larger pieces, short stories, poems, novels, can sometimes feel like a grind, and workshops like this shift your view just a smidge. Sort of like running around a playground for exercise v. practicing your sport for the Olympics. It's still valid and you're still exercising, it's just more playful. The timing just felt right for a little added playtime!
Your chosen practice is the Amherst Method. How did you first get exposed to this method and how did it become your preference? 
I thought about writing a LOT for several years, and then I took a workshop with Writing Pad, LA. It was an IRL generative workshop using the Amherst Method of prompts, setting a timer, and just writing "I don't know what to write" until you DID know what to write. I really loved it and started actually writing prolifically for a long while, published poems and stories, wrote a kids book, finished the first drafts of a memoir and 1.5 novels. It really helped me turn off the inner editor and find my strengths as a writer. I then taught workshops at Writing Pad, and led other writers and non-writers in the practice. I love it because everyone has a story to tell. EVERYONE! And even if you never publish, there is something freeing in writing that story down. And there is something joyful about sharing your writing with others, especially at the creative stage where the feedback is just positive. This is the space where you stop thinking "is this good enough?" and just enjoy writing.
I really like it because the basis of it is communal uplift and we could all really use that!
Sharing is optional, correct? So would you say these workshops are introvert friendly? I like to pretend to be invisible in most of my digital classes/workshops…
Who said that?! 😀 Yes, sharing is totally optional. I highly encourage sharing because it's a great way to hear about parts of your writing you may not have picked up as really cool, or reiterating parts that you know were cool. It's a nice little dopamine hit too! BUT the whole point of the safe space is so that the writer feels comfortable, and if sharing is going to make the person uncomfortable then it's just not their thing. I'll encourage, but I definitely won't pressure.
If people choose to share, the group is restricted to feedback for the author about "what we like and what we remember." Is this a guideline you developed, out of acknowledgement that writers have notoriously thin skins? Or is this part of the original model? 
Those rules are pretty much standard Amherst Method. The book the proprietor of Writing Pad recommended we read when I started writing was "If You Want to Write" by Brenda Ueland. It's all about positive feedback and releasing people from the grip of their inner editor or the fear of "getting it wrong."
So positive feedback is key at this stage of the game (balanced feedback with crit groups is a great thing, but this is play/creation time!) and what is shared stays within the group.
The other thing I really like is, when giving feedback on someone's piece, you say "the character" or "the narrator" and not "YOU" when giving feedback, ie. "I really felt for the narrator when their cat died" not "I really felt for YOU when YOUR cat died", it's a small thing, but it gives the writer room to feel free to share exactly what they want without judgement.
Just so participants know whether or not to put on pants…is this a camera on or camera off kind of workshop? 
Camera's on! Pants are still optional, as long as the camera angle is torso and above. Also, pets are welcome. If you watched the intro/teaser video, you're probably aware that when my camera turns on, the cats murder switch gets flicked to the "On" position for some reason. 
It's an interactive workshop, so I'm hoping to see faces, furry or non-furred!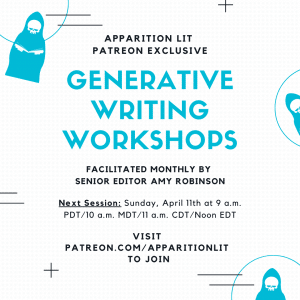 There you have it folks. Everything you need to know about The Apparition Lit's Patreon Generative Writing Workshops. Ready to get started? Grab your pants and cats, head over to our Patreon, and join Amy and crew for the first workshop, scheduled for Sunday April 11th at 9:00 am (PDT)/10:00 am (MDT)/11:00 am (CDT)/Noon (EDT)
Until next time, friends!
Blog photo cover courtesy of Kat Stokes via Canva.com
Marie Baca Villa

Blogger/Submission Reader

Marie Baca Villa is a Chicana writer and artist in California. She has a master's degree in psychology and used her education to build a long career in crime victim advocacy. As a fan of speculative fiction, she loves anything involving strange worlds, complex characters, and unexplained phenomenon. She's a bonified cat lady, covered in tattoos, and she loves cussing, beer, and flaming hot cheetos. You can find Marie on Twitter @okay_its_marie