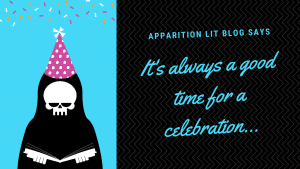 Greetings and salutations, Apparition Lit Readers and Submitters! 
Hi Friends!
Those of you who have joined our Patreon (and you should…) will have the chance to take a peek behind the veil and see our quarterly stats. These stats reveal how many stories we receive, how many we hold and 2nd tier, and how many we publish. Stats like these can be used for writers to gauge the level of competition in a particular market. For us, they show just how lucky we are!
Well this issue, we hit a new benchmark. Instead of making you all wait to hear the big number, I'm here to announce that Wonder has received over 400 submissions (and counting) in our two week open window. If that sounds like a big number, that's because it is! It's not only a high for 2021; it's also a notable high for Apparition Lit. 
During our pre-submission editor's meeting, our guest editor, the exceedingly accomplished Maria Dong, felt compelled to share some kind words that left us all feeling warm and fuzzy. She let us know her willingness to work with us comes from the notable perception that Apparition Lit is a well-made and serious publication, full of amazing talent. While we know this to be true in our little cold hearts, it felt truly wonderful to hear it spoken by an author we admire.
You showed us you agreed when we hit that new submission record!
Don't think we haven't noticed your support! We certainly have. We love to share the kind and encouraging words tweeted at us by not only our alumni, but our hopefuls. We are so happy our Patrons have decided to support us with their hard earned funds. And we are continually honored to see our stories make "best of" and "favorite" lists.
So, if you have not felt optimistic, and in case you have any lingering doubts, please let me be the one to reassure you…you should submit to us. Even if you have in the past, and received a rejection; try again! Even if you're not sure a piece is quite right for us; send it in and let us be the ones to decide! Even if you have no other publications to your name, do not even have a social media presence…heck, maybe you're a high school student just venturing into the literary field for the first time…honey, we will take it!
While we may not pick your piece –the competition is tough! We only pick 4 stories and 2 poems!-, every piece is read with eager eyes. Many stories stay with us long after the rejection notice has left our outbox. When there are so many publications out there, trying to catch your interest, we love that you love us!
So how about it, folks? You ready to break this record for us next year? Wonder is closed for now (with a few more days open for POC), but before you know it, we will be unveiling 2022's themes, and charging up for the new year. We hope to see you then!  
Until next time, friends!
Blog Photo by Thomas Bonometti on Unsplash
Marie Baca Villa

Blogger/Submission Reader

Marie Baca Villa is a Chicana writer and artist in California. She has a master's degree in psychology and used her education to build a long career in crime victim advocacy. As a fan of speculative fiction, she loves anything involving strange worlds, complex characters, and unexplained phenomenon. She's a bonified cat lady, covered in tattoos, and she loves cussing, beer, and flaming hot cheetos. You can find Marie on Twitter @okay_its_marie