Greetings and salutations, Apparition Lit Readers and Submitters! 
When you read a story, does the imagery play in your mind? Do you see lush, cinematic scenes of plot points, the faces of characters, and the fragments of settings? But most of all…do you hear the music? The background sound of your imagined film…an atmospheric and important part of building the story for yourself as you read..? 
Here at Apparition Lit, the jury is still out as to whether or not listening to music while reading helps, or hinders, our understanding of a story. I am not a fan of silence (a symptom of my full-time anxiety brain) and so I always have something playing in the background. And sometimes I hear a song and I think "Yes…this is the soundtrack of this piece." 
In celebration of our upcoming Contamination issue, I've collected a series of songs that I think set the scene right and brought them all together on one Spotify playlist. 
Listen to this playlist here, and be contaminated…

Here are some of my selected favorites: 
There's Something Dark ushers you into this issue…
Nevermine, Wednesday Night Melody and Hold Back Your Love thunder in the background of photoshoots in I Wear My Spiders in Remembrance of Myself…
Homebody and Howling at the Moon play over the journey to our hero's house in The Godmaker's Cure…
Karma the Knife opens on the antihero of Mushroom Head, and beautiful baby sings a lullaby in that fateful kitchen…As a bonus, we've included Mushaboom as a palate cleanser for this terrifying tale…
All In My Head and Dust to Dust plays wistfully in the courtyard of She Dreams in Bronze, and Morocco merges those two hearts into one…
Dissolve sets your course for space in Inextricable, while Everything Looks Better (in Hindsight) calms your fears…
Pluto comes along on the expansive journey in träumerei, while Weather serenades you out…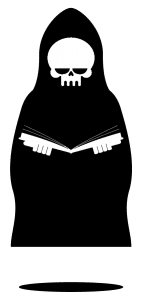 Now, all that said and done, this is my interpretation of the pieces we will be releasing in this issue. As a fan of music, I know the experience of certain sounds is highly subjective, and I'm looking forward to hearing about what our authors, and readers, think. 
When the issue drops, give the playlist a listen, and then share with me your thoughts about if I got it right, or if something's missing.
You can find me @okay_its_marie on twitter, and as always, feel free to tag us @AppartionLit 
Until next time, friends!
Blog Photo by Spencer Imbrock on Unsplash
Marie Baca Villa

Blogger/Submission Reader

Marie Baca Villa is a Chicana writer and artist in California. She has a master's degree in psychology and used her education to build a long career in crime victim advocacy. As a fan of speculative fiction, she loves anything involving strange worlds, complex characters, and unexplained phenomenon. She's a bonified cat lady, covered in tattoos, and she loves cussing, beer, and flaming hot cheetos. You can find Marie on Twitter @okay_its_marie