Greetings and salutations, readers!
With another successful edition of Apparition Literary Magazine online and in your e-readers, it was time to catch up with our exciting (and exceptionally busy) Charm Guest Editor Lauren Ring. Lauren joined us for the last issue on the tail end of a very successful year and we were so honored she took the time to work with us and bring her experience as both editor and Apparition Lit alum. 
Here, now, for your reading pleasure, is a host of thoughtful – and thought-provoking – answers about her experience of working with us, from both sides; her identities and many talents; and a very special set of charms that have come into her life (picture included). This edition of guest editor Q&A is also full of links to Lauren's work so you can continue to enjoy her words long after you have finished this article! 
Q: First and foremost, I always start with a classic for every guest editor: What was your experience like working with Apparition Lit as an editor, specifically (we will get to the fact that you are also a contributor in a moment)? What would you want our readers to know about how we choose our TOC? 
A: It was a wonderful experience! Everyone was kind and enthusiastic, but also professional and quick to respond to any questions. I especially liked the meeting where we went over our final TOC picks, because everyone got something different out of each story and poem brought to the table. It was super interesting to see all the different perspectives, even for pieces that everyone loved.
Q: This issue was not your first foray into the Apparition Lit world. You also graced our Satisfaction issue with your stunning tale "Sunrise, Sunrise, Sunrise". Now that you have been on both ends of working with the editors at this magazine, what can you share with our writers and future authors about your experience? Do you have some learning experiences you would care to share with our team? 
A: I'm still so delighted that y'all picked up "Sunrise, Sunrise, Sunrise" and shared it with the world! It's actually going to be reprinted soon in the upcoming Long List Anthology Volume 7, and potentially elsewhere (contract pending). From both sides of the magazine, I have been consistently impressed by how much the Apparition Lit team respects and uplifts all their submitting authors. I always see the team on Twitter promoting up a storm! Another thing that drew me to submit was the super-fast turnaround. After briefly joining the editorial team, I can see just how much time and care and discussion goes into reading all those submissions and sending out responses. 
Q: We are absolutely bowled over by your body of work. When looking at your publications, your bibliography reads as a "who's who" of fiction publications. You have some big names on there that any author would be envious of, and you also have a range of smaller markets (Apparition Lit, included). Your award nods also reflect this diversity and success. It appears you are diligent in exploring the whole range of publications that are available and keep an open mind about what would make a good home for your work. How do you pick markets with confidence, and what encouragement would you give to fellow authors to help them expand their interests and broaden their scope for submissions? 
A: I have a lot less on submission right now than I usually do, but since I usually try to have at least five short stories circulating at any given time, it's a lot of juggling market opening windows and searching through new calls for submissions. It usually ends up that I only have one story that is not already submitted and is the right length and genre for any given opening. Beyond that, I do read a lot of short fiction (it's my favorite!), so I usually see new and smaller markets through a single story they've published. I tend to submit to venues with editors I trust from other editorial work they have done, or to venues with a generally polished and clear artistic vision (Mermaids Monthly and khōréō come to mind as examples of what I mean, although I haven't been published in either). I would tell other authors not to submit anywhere they wouldn't be proud to be published, but to submit everywhere they would be proud to be published. Don't self-reject!
Q: You shared in the editor's meeting (and also share on Twitter) that you identify as a femme Jewish lesbian and, accordingly, much of your writing involves these identities. I was wondering if you can talk more about that experience. What does it mean to bring forth your personal identities in your fiction, and how would you suggest others gain comfort with doing the same? 
A: It's nerve-wracking for sure! I'm always worried my personal knowledge isn't enough and I've missed something major, or that I have been doing something wrong my whole life (this is more about Judaism) and I'll only find out when it's published in print. It's especially hard to know that an editor who doesn't share your identity won't be able to see something like that coming and catch it during pre-production edits. On the other hand, my Jewish stories and my lesbian stories and the stories that have elements of both are the stories I most want to share with the world. It's hard to put this feeling into words, but it almost feels like that's the point of writing, for me. I want to write things that make readers feel seen. I do feel very vulnerable writing about these identities, though, and I don't think I would suggest that anyone try to make themself comfortable with that sort of writing if it doesn't feel safe for them. If it's just that they think there isn't an audience for stories that involve their particular identity: I promise you, there is.
Q: To follow up that question, during Hanukkah, you shared your novelette titled (emet) on Twitter, and it featured a very modern take on golems, programmed with computers but imbued with familial magic. For me, the story featured a fusion of themes spanning across morality, creation and creativity, and social justice. Without adding spoilers here, I loved that the main character seemingly struggled with the modern conundrum of how to achieve justice, and in turn it was revealed to be really the same age old question of morality and faith. I've now seen it mentioned many times on favorites and award-nod lists, and it is stunningly timely. What was your inspiration for this story? Was there a singular event that you've seen over the last few years, or was it, as it was for the main character, really a culmination of experiences and observations that motivated you to create something that reflected your own experience of what justice looks like in a modern world? 
A: For this question, I'm going to pull directly from the little statement I added to the print version of "(emet)" when it was published in July of 2021. "This piece was inspired by the increasingly invasive ways technology has been used during recent protests. Algorithms, machine learning, and AI are powerful tools, but they are not inherently neutral. They are made by people. What that means for society depends on those people." I think the core of "(emet)" — and also my short story "One Hundred Seconds to Midnight," which is about kaiju attacks and insurance coverage — is personal responsibility. "(emet)" is about facial recognition, but it could just as easily have been about autonomous vehicles, or the blockchain, or even social media design. There are always people involved, those people are always making choices, and the consequences of these choices are not always what those people expect.
Q: In addition to being a published, highly accomplished writer, you also have your own merchandise business featuring your art. And even within your business, your art is quite diverse, featuring not only visual art, but also items such as pins (at the time of these questions, your store is on hiatus, but I would like to link some of the products whenever it comes back! Update 03/2022: here is the store). I find a lot of writers struggle with wearing multiple hats, and often leave merchandise and visual art on the back burner, even if they are multi-talented. How do you balance your many endeavors? What keeps you interested in all sides of your business when you have looming deadlines and a lot on your plate? 
A: My store is back now! I actually hadn't closed up shop since I opened it in college, so I'm glad I finally took a break for a few months. I balance everything with my beloved Google Calendar, a "To Do List" that I constantly update and is currently three pages long, and many, many spreadsheets. I definitely didn't expect either side of my creative endeavors to take off in the way that they did, so I'm still figuring out how to set a healthy work/life balance for myself there. For me, though, having multiple creative outlets actually helps me keep myself interested in everything. If I'm feeling burnt out on writing, I go paint for a while. If I'm having a hard time with a certain painting, I move over to the very technical work of enamel pin vector adjustments. If I'm fed up with visual art entirely and wish I could just say what I mean instead of having to draw out every last detail, that's when I go back to writing! Sometimes all of these things happen within a day, sometimes it's a span of a year. They're also all pretty related, since I've done a lot of pin design for the publishing industry and I love to paint fanart of my favorite SFF characters.
Q: Last but not least, the "just for fun" question: in your editorial essay, you share a wonderful memory of your favorite childhood charm bracelet. I loved this because I, too, found this theme evocative of the kitschy jewelry of days past. I don't know if you've noticed, but they're quite in again and if you had to pick some new charms for a new bracelet for yourself, what would yours be? Truthfully, I've already started my new collection, and I have an alien head representing my love of space/unexplored; a wine glass for my favorite adult beverage; a pen for the times I occasionally write; and a peace sign for the tranquility I am always searching for…
A: Oh my gosh, I'm so glad you asked because I actually did buy a new charm bracelet just this month! I found a lovely Etsy seller who was willing to resize the bracelet so it wouldn't fall off, and I am now the proud owner of a charm bracelet that sums up the entire plot of The Last Unicorn. It has a unicorn (of course), a butterfly, a bull, a cat, a sword, and a little hand-stamped charm that says "nothing ever ends." I'm absolutely in love with it, and I think it still fits your question because that book and movie make up about 90% of my personality. The only thing the bracelet is missing to represent me is the color pink!
Photo property of Beneath The Leaf: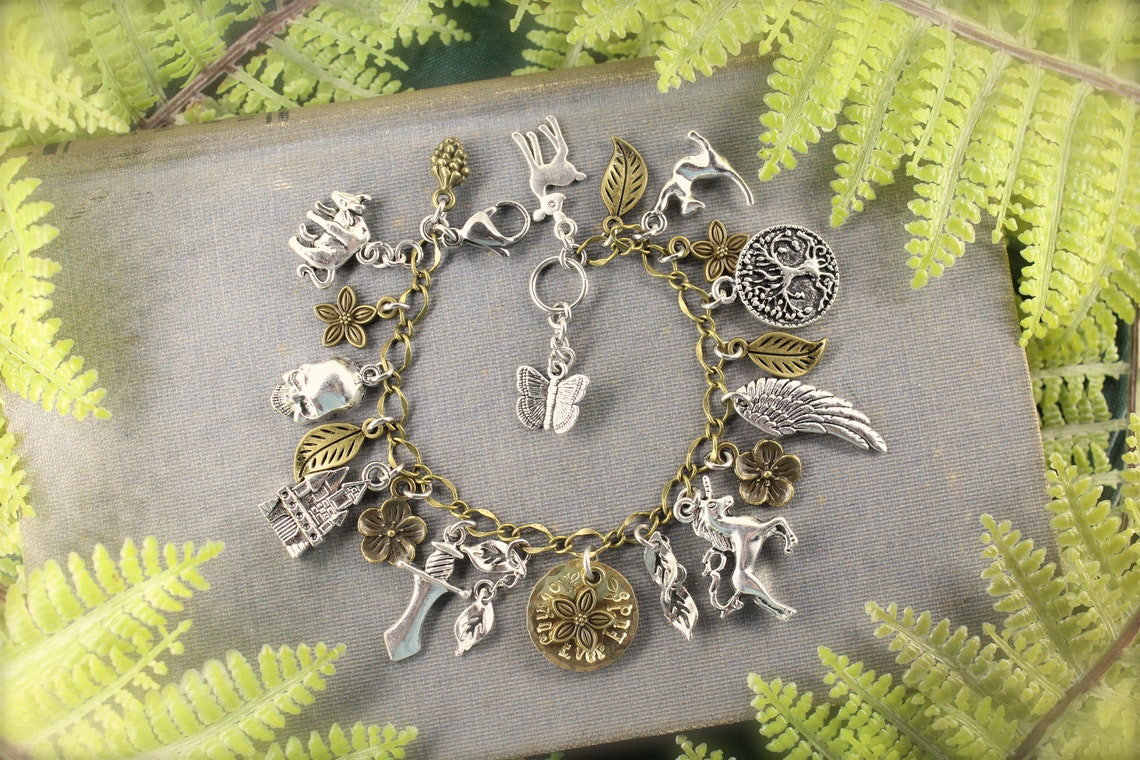 Until next time, friends!
Blog Photo by Krystal Ng on Unsplash  
Marie Baca Villa

Blogger/Submission Reader

Marie Baca Villa is a Chicana writer and artist in California. She has a master's degree in psychology and used her education to build a long career in crime victim advocacy. As a fan of speculative fiction, she loves anything involving strange worlds, complex characters, and unexplained phenomenon. She's a bonified cat lady, covered in tattoos, and she loves cussing, beer, and flaming hot cheetos. You can find Marie on Twitter @okay_its_marie