Greetings and salutations, readers!
It's been a minute. And that minute has been full and weighty. 
We – all of us, bar none- have been on the cusp of history for the last few decades, and with the sands of time forever marching forward, the reckoning is upon us. Now we are seeing the natural consequences of generations of political and ecological disinterest come to fruition, and we have no choice but to stand and engage. 
To prepare you for your inevitable fight, I present you with two equally compelling but thematically divergent playlists, Omen and Wanderlust, meant to motivate and rally during these bleak moments. Nothing like a little diversion to prevent burning out from unyielding injustice… 
Did I mention I am releasing, unto this chaotic and uncaring universe, not just one, but two joyful playlists? Curated to near-perfection just for your listening pleasure! 
Find Wanderlust here: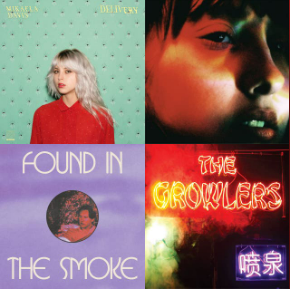 Find Omen here: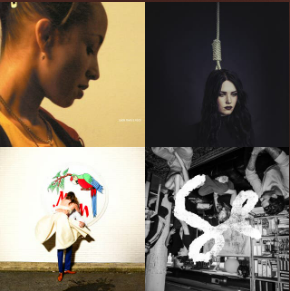 Not sure which playlist is the right soundtrack for your unique brand of ennui? I've created the following chart to help you decide. It's sort of a choose your own adventure for your end-of-the-world soundtrack!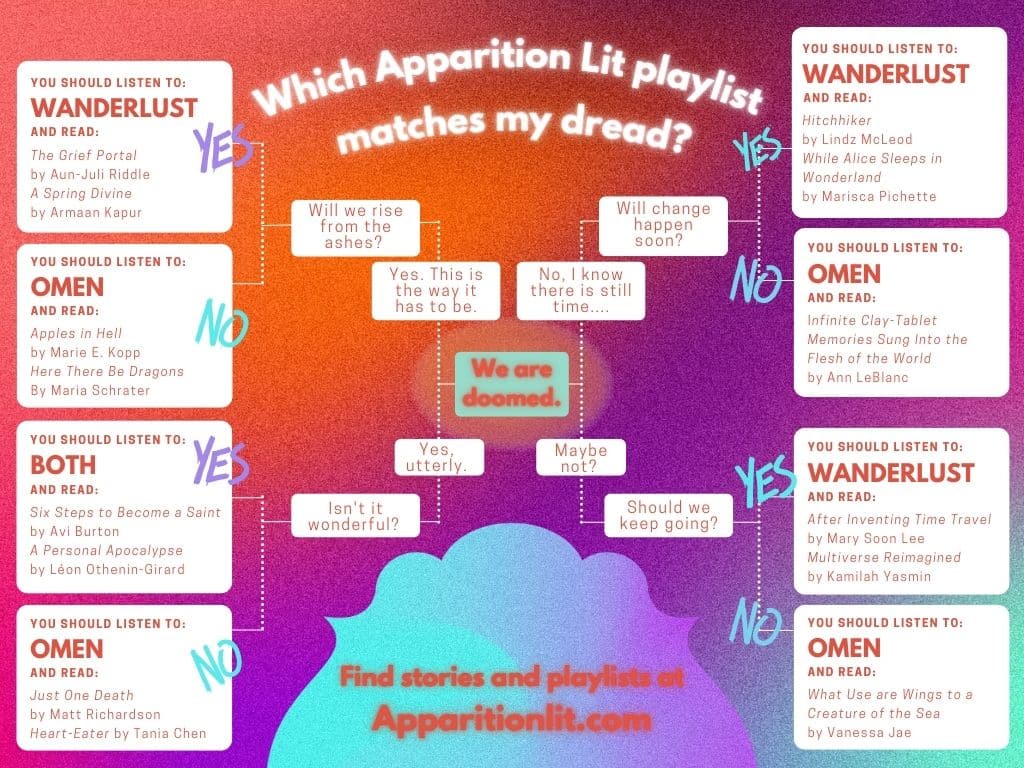 I am posting both playlists at once to provide you with the best choice for your appropriate vision – definitely not because I've been in a languishing haze of an onslaught of horrific socio-political developments and didn't find the focus to post them before now…
If you need to be fully transported, don't forget Wanderlust is available and waiting.
Omen is on its way to free you even further, dropping on July 15th. 
Through the churning of changing tides, we are here to help steady the ship with continuous quality stories to foster harmony, cultivate change, and lift up the voices of the creative. And we do it with your continuous support, excitement, and talent. 
Let Apparition Literature be the light during these dark days.  
We are all doomed. Rock on! 
Until next time, friends!
Blog Photo by Fidel Fernando on Unsplash  
Marie Baca Villa

Blogger/Submission Reader

Marie Baca Villa is a Chicana writer and artist in California. She has a master's degree in psychology and used her education to build a long career in crime victim advocacy. As a fan of speculative fiction, she loves anything involving strange worlds, complex characters, and unexplained phenomenon. She's a bonified cat lady, covered in tattoos, and she loves cussing, beer, and flaming hot cheetos. You can find Marie on Twitter @okay_its_marie