Greetings and salutations, readers!
In light of the new year, we are BACK with an extra fresh holiday/New Years edition of "This or That." Last round, guest editor Maria Dong gave us many great and thoughtful answers to my ridiculous questions. This time, Senior Editor Amy Robinson has come through with her fun answers, ready to set the stage for the new years celebrations.
Even better, below you will find your own printable version to take with you to your parties and celebrations, or trade online with your video party!
Please read on and enjoy!
The best of the season: fresh snow or staying cozy indoors? Staying cozy indoors. Love that weight of multiple blankets, fuzzy socks, and fluffy sweaters.
Beverage of choice: Hot chocolate or Mulled Wine? Hot Chocolate but without the chocolate (cause of the allergic to cocoa thing).
Cryptids that come calling: Krampus or Mari Lwyd? Mari Lwyd for sure! Getting to match wits in a song battle with a horse skeleton and then they come in and drink and eat stuff with me when I lose? I am 100% on board!
Eggnog: good or evil? Eggnog is evil wrapped in good. I actually love the flavor but the things nog does to my body is EVIL. It's farts and a hangover wrapped in enchanting creamy spices.
The ultimate seasonal seasoning: Peppermint or Pumpkin? Peppermint, definitely. I would like to say that there is no Pumpkin Spice flavored gum, but I'm betting that somebody has made it, only asking if they could, not if they should.
What's better: hosting at home or going out as a guest? TOUGH QUESTION! If I host at home, I don't have to actually go anywhere, but there is cleaning and then I have people in my house that maybe won't leave by 10 so I have to stay up late BUT if I go out, then I have to get cold and actually GO somewhere, but I don't have to clean up (before AND after for some reason) and can meet new people who the host knows but I've never met before… I'm gonna say that going out wins this round.
Holiday tv movies: perfectly festive or truly unnecessary? GAW! Another controversial set up. You're good at these. I'm going with festive for the most part.
Which list has the best people: Naughty or nice? Naughty. Hands down. Easy answer. Mostly because of who is judging. I see you SAINT Nick.
Family traditions: the best memories or prefer to let go? Memories, definitely. BUT I do believe in making new traditions and letting the out-of-date ones pass on.
Holiday office party: great for morale or done out of duty? Duty calls, though I haven't been to one in about 12 years. They were fun, especially if there were prizes to be had.
The ultimate hunt: Yeti or Big Foot? Yeti, he seems to brood a lot less that grumpy ole Big Foot. Also, I'm all in for short names
The ideal guests: friends or family? Marie! You are gonna get me in trouble with his one. I love hosting family because it's familiar and fun and the same language, but with friends I always grow. I guess ultimately family wins this round because they can never EVER be rid of me!
When carolers come: do you answer or pretend no one's home? Answer and sing and dance along. YOLO
Your choice: gift-giving including adults or just for the kids? Include them beebees! Since I don't have kids, I love buying presents for them. Plus I really want to see what a 4 year old is gonna pull off the shelves for me. Like maybe I'll get a celebratory head of cauliflower?
Ringing in the new year: a time for ritual or just another day? Ritual. Auld Lang Syne if ya know what I'm saying (what am I saying?)
On the eve: Staying up until midnight or calling it early? Early. Livin' on the North American West Coast, celebrating with the North American East Coast NYE midnight. TIME IS A CONSTRUCT OF MAN.
New year's resolutions: an opportunity or bound to fail? Both. I contain multitudes
When the portal opens: leave your old life behind, or stay steadfast and hold on? Wait, there's a portal? When I was a youngster definitely a) leave everything, now that I'm a not youngster (unless you consider the time-span of the universe) I say stay steadfast, live in the now, hold on.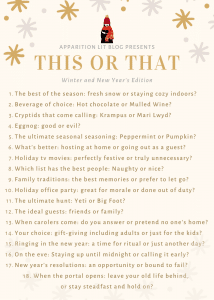 Until next time, friends!
Blog Photo by Kate Hliznitsova on Unsplash    
Marie Baca Villa

Blogger/Submission Reader

Marie Baca Villa is a Chicana writer and artist in California. She has a master's degree in psychology and used her education to build a long career in crime victim advocacy. As a fan of speculative fiction, she loves anything involving strange worlds, complex characters, and unexplained phenomenon. She's a bonified cat lady, covered in tattoos, and she loves cussing, beer, and flaming hot cheetos. You can find Marie on Twitter @okay_its_marie