Greetings and salutations, readers!
You all so enjoyed our last curated playlist, that I have returned with a new selection of songs dedicated to our last published issue WONDER…
Find the list by using the code below, or just clicking the image to link: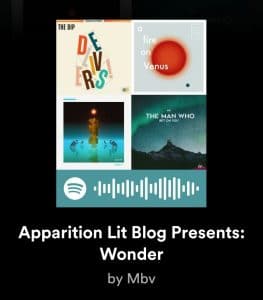 As I began to collect music for this edition, I imagined how these tunes would differ from the slow, melodic (and some said, moody) list that populated Contamination…
But did they ever.
While listening and reading, I saw before me a whole other journey. In this issue, indeed, journeys take center stage…
And in each and every piece, bar none, we see evolution…
We see change…
We see characters open their eyes to the WONDER of the world, and the parts they play in it…
As caretakers, keepers, victims and heroes…
We see them be chased, be hunted…we see them become the hunters…
We see things shape, take root…grow…
We see all the world's wonders take center stage and begin a new…
This playlist is inspired by those journeys…music to motivate our main characters, to keep their spirits high while they fall; to keep them moving when they would rather stay still; to keep them fighting giants when they feel small…
Perfect writing music, as well, if you're waiting for inspiration to strike for CHARM (link). 
So take a listen, and hit the road. Wonderful things await…in this issue, and the next! 
Until next time, friends!
Blog Photo by Patrick Hendry on Unsplash   
Marie Baca Villa

Blogger/Submission Reader

Marie Baca Villa is a Chicana writer and artist in California. She has a master's degree in psychology and used her education to build a long career in crime victim advocacy. As a fan of speculative fiction, she loves anything involving strange worlds, complex characters, and unexplained phenomenon. She's a bonified cat lady, covered in tattoos, and she loves cussing, beer, and flaming hot cheetos. You can find Marie on Twitter @okay_its_marie